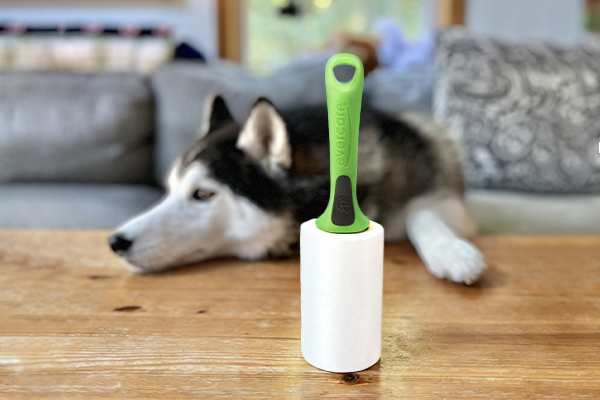 How to get through the most challenging time of the year for your pet with Evercare lint rollers.
The flowers have bloomed, the sun is peaking through more and more each day, and kids everywhere are gearing up for their favorite time of year. The summer solstice is right around the corner, which can only mean one thing: the Dog Days of Summer are almost here! From early July to early August, we experience some of the stickiest and hottest days of the year, also known as the "Dog Days." Your canine pals may need extra TLC for the warmer days ahead. During these challenging few weeks, your dogs are more prone to overheating and dehydration. Evercare is here to help you power through the Dog Days with our pet line.
What are the Dog Days of Summer?
In essence, the Dog Days of Summer refer to the rough time of year when heat and humidity hit their peak. This endearing pet name comes from the alignment of the hottest days of the year and the rising of Sirius, the Dog Star. Sirius is known as the brightest star in the sky, other than our sun. Ancient Grecians, Egyptians, and Romans all believed that the two stars rising together created a sort of "combined heat," hence the unbearable temperatures. While the history of this scorching time of year goes back to when folklore was everything, the concerns around the high heat remain. It is crucial to keep your dog cool and healthy while they endure the heat along with you.
Summer Pet Care
For every summer adventure we take, much prep goes into making sure fun is the priority when the time comes. We can help you keep your space clean and safe with our Evercare Pet Lint Roller. Before you take on the summer sun with your furry pals all day, ensure you're ready to keep them comfortable. Keeping them cool and shaded as often as possible is essential, especially with the intense humidity and peak temperatures. Pack a water bottle not just for yourself but for your pet too. Keep an eye out for any symptoms of dehydration or overheating, like wobbly legs or excessive drooling.
And last but not least, be sure to keep your home clean to help prevent exposure to toxins. Our DUO Pet and Lint Roller is perfect for keeping your home surfaces, clothes, and car seats pet-hair-free, whether you're doing a deep clean or on the go. Evercare makes keeping up with your pet easy and even fun!
Proud Supporters
Check out the ASPCA's tips on caring for your canine during the Dog Days of Summer. Evercare is a proud partner of the American Society for the Prevention of Cruelty to Animals (ASPCA). The ASPCA is an animal welfare organization that has been providing on-the-ground services for dogs, cats, and many others in need since 1866. We love your furry pals here at Evercare, too. A clean home can go a long way for your favorite furry pals.
Whether kicking off the summer with a family BBQ or you're right in the middle of the Dog Days, keeping your pet comfortable and happy should always be a priority. Our Evercare pet line is perfect for keeping your pet's home cozy and clean all year round.
Show us how you and your pet do summer with our Evercare pet line! Tag us on social media @Evercarecom with #EvercareSummer and #EvercarePets.